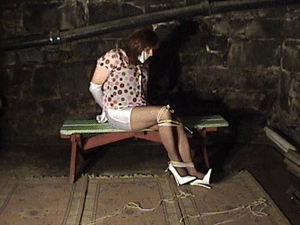 81 photos; 18:21 video
Featuring Special Guest Damsel, Phoenix Gold! The late, great Phoenix Gold!

Samantha Ryan and Bettie Mitchell have made plans to have an evening of sexual pleasure, while their respective husbands are out of town. But, their plans are rudely interrupted, when Samantha's house is robbed by a stocking hooded burglar.

Both women end up bound and gagged in the basement, tape gagged and tied up with rope. Their credit cards and driver's licenses are stolen and used as blackmail, to expose the two women to put on a show of sexual affection for the perverted burglar. Neither one of the housewives will ever forget how this evening of intimacy turned into a night of peril!