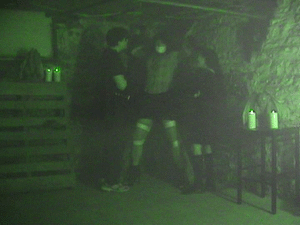 29 photos; 7:32 video
Co-starring Amalieve as The Witch and Mister Charles as The Warlock. I play the role of The First Lady in this scene, where I am captured, put under a spell and brought to the dark side, to join The Witch and The Warlock in their plan to bring down The Powers Of Good!

Halloween is my favorite holiday, so I set out to do something really special on my site. The result is this video of sorcery and intrigue. There was a lot of special touches put into the making of this video. I love the use of candles and candlelight for scenes and employed the use of four of them for this scene, to give the room an eerie ambiance. Gargoyles represent the more dark side of Halloween, so I felt it very appropriate to use two of them. If you look real closely, there is a skull placed and hidden inside one of the walls. And for a nice finishing touch, the use of a fog machine really captured the essence of Halloween for me. Add in some very unique costuming, the scenario, and the setting, and I believe a very classic Halloween bondage scene was produced. I sincerely hope you enjoy "The Witch And The Warlock". Happy Halloween!