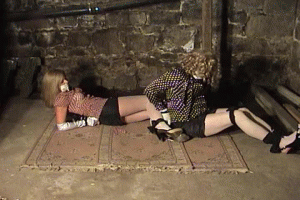 16:44 video
Dakkota Grey returned for her 3rd shoot with me, and indulged my focus on shooting Retro bondage scenes. Old style clothing combined with modern accessories, utilizing very old style bondage in very old style settings.

"Retro Payback" is a 3 position scene, that is just about struggling and escape attempts in all 3 positions. A floor tie, a double chair tie, and a double hogtie.

I have always admired Dakkota, how she looks and how she struggles. She compliments my style and look. One of the many reasons that I love to shoot with her. I hope you find this video to be very unique, sexy, and entertaining!