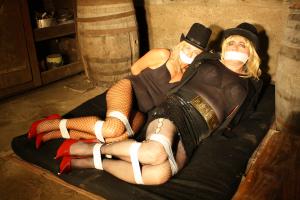 49 photos
Featuring Guest Damsel, Dakkota Grey from Grand Rapids, Michigan.Filmed in September of 2011, "Two To Tango" features both Dakkota and I as casino showgirls and debuts my Bound and Gagged Showgirl character!

It seems that one of the rival casino owners has been watching us for quite some time. And, since she has fallen on hard times at her casino, she has decided that the two most influential and popular showgirls in town would be a great way to make a lot of cash in a hurry!
The casino owner carefully puts her plan together. She hires two henchmen to remove us from our dressing room against our will. Then we are transported to her hideout and bound and gagged with duct tape.
Her helpless prisoners, we listen intently as she tells us of her plan to advertise our services to all the other casino owners.......for a certain price. Photos are taken of us, posted on the web, and the offers start rolling in. The other owners know we are worth a lot of money for the amount of revenue we could bring in to their casinos.
Soon, our captor has accepted an offer for us. Now, comes the signing of the new contracts. And with that, comes the total loss of all of our rights and freedoms in the future! Will we sign, or won't we? It looks grim for the two captured showgirls!