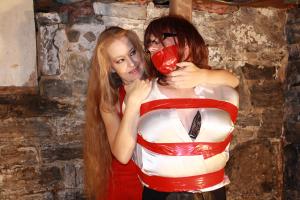 52 photos
Co-Starring The Legendary KristynaDark as The Evil "Darling Avacrop"
In Part II of The Chairman Of The Board Series, The Chairman was sold to the highest bidder, for her captor's profit.

In Part III, The Chairman is delievered to the buyer, Darling Avacrop, to star in a XXXX movie, where the Chairman will actually perish, for real!

The Chairman is pole tied by both her former employee and Avacrop. The money exchanges hands. The deal is done!

But is it? The former employee may have some different plans for Darling Avacrop!