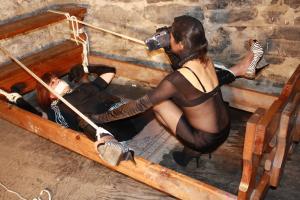 70 photos; 9:46 video
The Nylon Bandit has been watching Joyce Sampson for a long time. Plotting and planning. Take her. And hold her for ransom to her company's boss. 10 Million is the price. Pay up, or lose your editor. For Good!

Pics are taken of the victim and sent to her boss. No response. Video is filmed. Now, The Nylon Bandit has the boss's attention. The 10 million will be payed. But, it will take a week. In the meantime, Joyce Sampson will be The Nylon Bandit's XXXX playmate and sex slave!