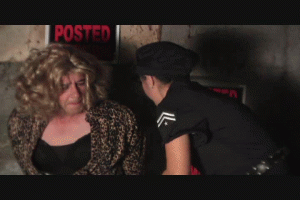 The Helpless Whore is busted by The Bad Cop for smoking in a non-smoking zone. She is quickly apprehended and restrained with zip ties about her wrists and legs. Her mouth is nicely taped. The Helpless Whore is left to struggle. But, escape is impossible. The Bad Cop returns, cuts a hole in her tape gag, and then XXXX The Whore to smoke while gagged, choking on the cigarette smoke. Left to struggle on the floor, The Helpless Whore is now the prisoner of The Bad Cop!
Starring Joyce Alexander as "The Helpless Whore"

And Amalieve as "The Bad Cop"