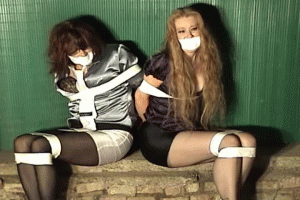 11:28 video
One of the best scenes n my Double Damsel Perils Series!
And one of the best Guest Models ever on Transformed By Bondage, the Incredible KristynaDark!

Unfortunately, attempting to blackmail your Boss can be Dangerous! Very Dangerous! As two secretaries soon find out!

Caught in the act, by their Boss! Taken into captivity and transported!

Held prisoner in a dungeon. Tied with duct tape, gagged, chained together, totally helpless!

Time for The Boss's payback! A revenge Plot! The two Dames! They disappear! Permanently!