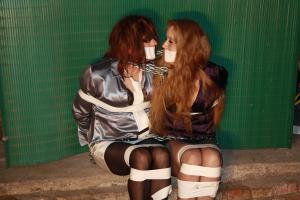 37 photos
Co-Starring the incredible KristnyaDark!
Two secretaries, dressed in pantyhose, short skirts, and ultra high heels, are being held captive by their boss, after they are caught attempting to blackmail their boss. They know too much, and end up tied, gagged, stuffed into a van, and transported to an underground hideout. Now, they are helpless, bound and gagged in duct tape, and tied together with chains and locks by The Office Boss. Their fate lies in disappearing forever, whether it be alive or dead!
The Video for Part II of "A Twist Of Fate" wll be featured on Wednesday, the 27th of July!