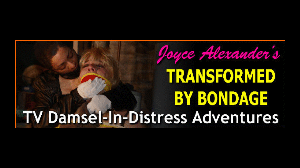 30 photos; 10:59 video
I am pleased and proud to introduce a very special guest on Transformed By Bondage, Emilia Bound, a TV from Germany, who has her own site entitled BoundXressers.com. This scene was filmed in her studio in Germany.

In this video, Secretary Emilia is brought into a room, handcuffed and tape gagged, by a ski masked villain. The room is set up for taking photographs, and the helplessly bound and gagged Emilia Bound is to be the subject of those photographs!

The Villain takes many pics of Emilia for his private collection, and also plans on selling the pics to the public. Emilia's ankles are soon duct taped, and her handcuffs are removed, replaced by duct tape bondage.Her pantyhose are pulled down, exposing her shapely ass in her panties. Now, "The Bondage Photographer" begins to grope and fondle Emilia's helpless body, spanking her ass, and making sexual advances that Emilia cannot stop.

What follows is more bondage, as Emilia's glasses are removed and she is blindfolded with more duct tape. Her wrists become attached to her ankles in a hogtie with rope for more pics and groping and fondling. Her bondage gets deeper as her hands are tied in front of her, with the hogtie, and rope attached from her neck to her knees. Emilia is in a real bind, and her captor has no intentions of releasing her!